Martin Skahill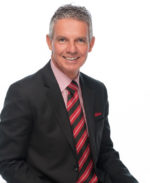 Owner / Director
Sometimes Experience Matters
If you would like to use the services of a fully qualified, gentle, user friendly and straight to the point real estate agent with a lifetime of highly successful and trusted real estate experience, believe me, Martin is certainly the person you need to contact.
Don't just accept this though, be sure to talk with local professionals, business leaders and your friends and associates – you will be sure to find many people who Martin has assisted over his almost 30 year career in real estate in Bendigo.
He is by far the most experienced, recommended and referred real estate professional operating throughout Bendigo and central Victoria.
Martin is the complete real estate professional, a people's person who actively lists and sells everything ……. from large land developments to individual blocks …… from top end city residential to small miners cottages …… from large commercial developments to individual shops and factories …… as well as lots of farms and hobby farms.
Early in his career he was taught that you should seek out one facet of real estate and specialise in that area. Well, he did just that! He specialised in PEOPLE.
His expertise is meeting, listening and understanding people. He is a master negotiator, auctioneer and marketer.
Whether sitting around a boardroom table or one on one with you at your kitchen table – you get the same guy …… a kind, gentle and understanding person who is there to help you.
Unlike most agents, he isn't there to "get your business".
Martin insists on including everyone with an ownership interest in a property in the discussions. On one occasion this brought a feuding young estranged couple to the table together for the first time in a long time, resulting in one of his proudest outcomes – they got back together again and there was no need to sell! No amount of commission could have been more rewarding.
He is far less forthcoming about his personal life and achievements. Be sure to ask him about his 38 year marriage to Sue and their seven children, his elevation to "Spartan" in the Melbourne Marathon this year, or the number of consecutive days he has now started his day with a long distance run at 5am.
If you get the chance, be sure to glimpse his amazing Sales Awards cabinet which is kept at the office but behind the scenes, away from every day public view.
He will tell you that the easy way is rarely the best way. He's always in it for the long haul and he just doesn't give up on anything, until the desired outcome is achieved.
Martin is very proud of his 45 year association with Elders, starting at the bottom straight from school, then appointed to branch manager status at only 23 years of age and has now been the owner and director of the Elders Real Estate Franchise business in Bendigo since 1991.
Martin has successfully completed the Real Estate Certificate Course and a Bachelor of Business in Land Economics. He is a fully licenced real estate agent, auctioneer, land economist and qualified valuer.
03 5443 1744
03 5443 4074
0427 431 744